Skip Navigation
Website Accessibility
Epic 3 Lecture/Demo Party with Husqvarna Viking Educator, Laura Luett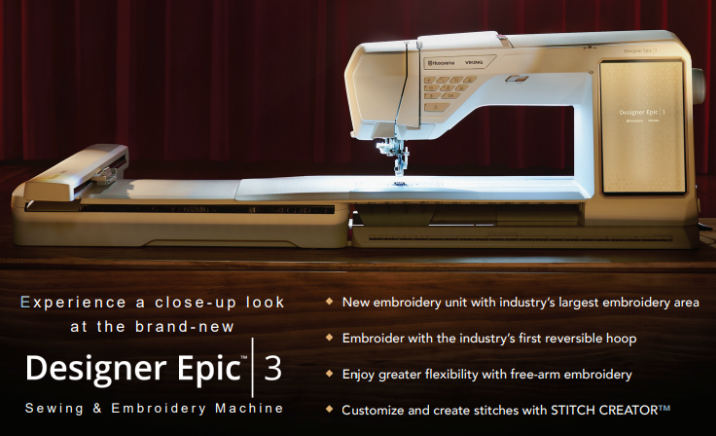 Come and Meet the Husqvarna Viking DESIGNER EPIC 3 !!!
Please Join us for a Lecture and Demonstration of the
Amazing Designer Epic 3 with Husqvarna Viking Educator, Laura Luett.

10:30am - 4:00pm with a break for lunch (lunch not included)
Welcome to an extraordinary journey into the world of creativity! Join us for an exclusive lecture and demonstration featuring the groundbreaking Designer Epic 3 embroidery and sewing machine. Unleash your artistic potential as we explore the limitless possibilities of this cutting-edge top of the line machine. From intricate embroidery designs to flawless stitching, this machine is a game-changer for machine embroidery and sewing enthusiasts alike. In our session, you'll discover its new innovative features, empowering you to bring your most imaginative projects to life effortlessly. Join us and let your creativity soar with the Designer Epic 3. The Epic 3 is revolutionizing the way that sewists think about sewing machines. Come learn how to take control of your newest projects using the Epic 3! Don't miss out on this opportunity to learn from Husqvarna Viking educator Laura Luett.
With a redesigned embroidery unit, special techniques hoop, and the industry's largest embroidery area, the DESIGNER EPIC™ 3 sewing and embroidery machine lets you explore new techniques and create like never before.
Epic 3 Lecture/Demo Party with Husqvarna Viking Educator, Laura Luett
Cost:
$ 20.00
Does not include lunch
| | |
| --- | --- |
| | Fri, Dec 8, 2023 at 10:30 am to 4:00 pm |
| | |
| | Attendee Name: |
| | |